« Back to Focus Areas
Enhancing Southwest New Mexico Connectivity in Grant County Communities of: Silver City, Arenas Valley, Santa Clara, Bayard, & Hurley
Started: January, 2022 End Date: September, 2023 Project ID #4W9547 Status: Ongoing
Objective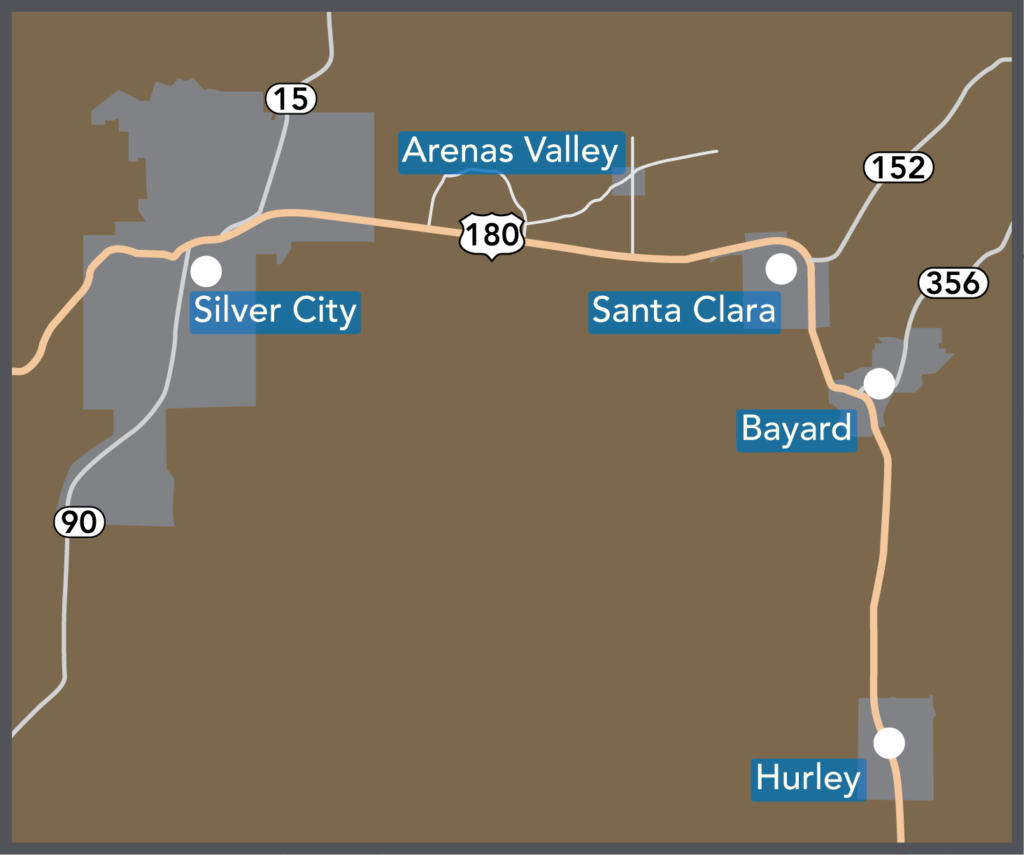 The National Association of Development Organizations Research Foundation (NADORF) Team will work in cooperation with SWNMCOG to document the current active transportation use along the U.S. 180 corridor between Silver City, Arenas Valley, Santa Clara, Bayard, and Hurley. The NADORF Team will better document the crash experience, with a focus on the U.S. 180 corridor. This research effort will provide recommendations on improving active transportation along the U.S. 180 corridor and the potential to improve connections to the Continental Divide.
Map showing communities for Silver City, Arenas Valley, Santa Clara Bayard and Hurley along Hwy 180, New Mexico.
Abstract
Located approximately 235 miles south of Albuquerque and 150 miles northwest of El Paso, Texas, Grant County, New Mexico, is an international destination for elite and recreational cyclists, and host to annual cycling events such as the Tour of the Gila Criterium Races. Silver City, the county seat, serves as a gateway to the 3.3 million acres of Gila National Forest, home of the Continental Divide National Scenic Trail's path across southwestern New Mexico. The Town of Silver City, unincorporated community Arenas Valley, the Village of Santa Clara, the City of Bayard, and the Town of Hurley, (FIGURE 1) in coordination with the county and the Southwestern New Mexico Council of Governments (SWNMCOG), are pursuing opportunities to expand on the region's natural resources (New Mexico State Park, City of Rocks State Park & National Park Service, Gila Cliff Dwellings National Monument), outdoor recreation, hospitality, retail, and tourism economies. These efforts include improving connections to hiking and cycling trails, as well as enhancing safety and active transportation access along the U.S. 180 corridor.
Contacts
Carrie Kissel - Main External Contact
Files & Documents
Sponsors & Partners
National Association of Development Organizations (NADO) Research Foundation

Sponsor
Part of: Mobility and Public Transportation
Project Tagged In: safety, tourism, Recreation, Active Transportation, Bicycling
« Back to Focus Areas